Dental Lab / Protective Sport And Night Guards
Recommend an effective and proven dental solution to your patients.

Looking for sport or mouth guards for particular cases? We offer mouth guards in a wide variety of colors with high levels of flexibility and tensile strength for performance purposes. Customized mouth and sport guards made from a precise impression of the patient are much more comfortable for the client than over the counter solutions, and are more durable to wear & tear from activity. For those with teeth grinding difficulties, we also supply dental night guards. These provide far greater comfort and help protect the pre-existing dental appliances (dentures, crowns, bridges, etc.) from unnecessary damage.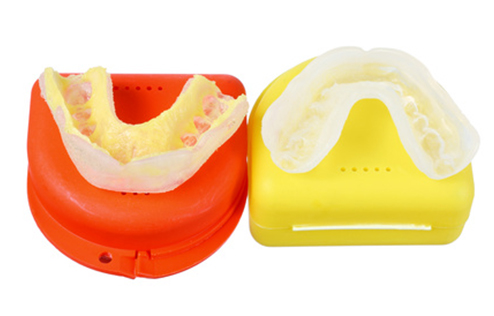 Overview
We can fabricate all varieties of mouth and night guards from stock versions to custom fabricated solutions for frequent use. We are always willing to apply our accumulated knowledge to more complex cases when appropriate. We aim to provide complete service; from the initial consultation to final fabrication we keep in communication with you throughout the process – giving you and your clients peace of mind. We can also accommodate team or group requests where required and create both clear and colored mouth & night guards for children or adults.
Stock or Custom Fabrication
Durable, Top Quality Material
Don't hesitate to contact us with any questions you have regarding our sport mouthguards or dental nightguards. As we utilize the products from our dental lab with our own clients, you can rest assured we continually strive to provide the very best mouthguard products – every time.
Padua Dental Arts is affiliated or a member of the following associations: