Denture Clinic / Complete Dentures
Complete dentures are an excellent solution for patients looking for a complete smile.

Complete dentures can help restore confidence in your smile. While removable, they are designed to fit precisely in your mouth so you can find comfort again in everyday activities such as eating and chewing. If you have lost most or all of your teeth, a complete denture is one of the first solutions that may be viable for you. We also offer immediate dentures if you require a solution right after the affected teeth are removed. Every patient has different demands and requirements from their complete dentures. We can work directly with you to figure out the denture solution best suited for your personal situation. If you are looking for an even better smile than our traditional dentures, or you have particular fit requirements, we can also further customize your dentures to match.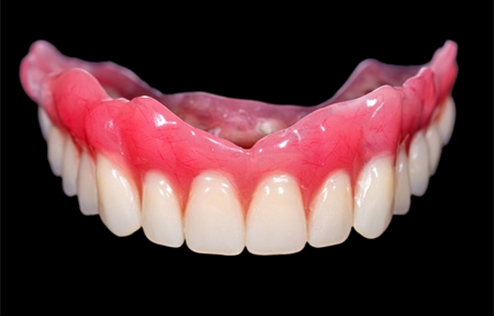 Treatment Overview
First, you will have a consultation meeting with our denture specialist in our Whitby office. During this process, we will take appropriate measurements of your mouth and consult with you to understand your unique situation.
Using our in-house dental lab, we create a mold of your mouth and work towards customizing the look of the denture teeth and gums to match your natural mouth for the best possible visual appeal. Subsequent meetings will test the fit of the denture mold as well as your speech and other aspects. Once you are completely happy with your denture mold, we can produce the final denture through our dental laboratory.
At Padua Dental Arts we have your best interests at heart. We are fully prepared to re-invigorate your smile! Immediate dentures for speedy relief post tooth-extraction are also available. Contact us if you would like to schedule an appointment, or simply to inquire about our services regarding complete dentures. We would be happy to answer any questions you may have.
Removable denture solution
Improve your smile and quality of life
Padua Dental Arts is affiliated or a member of the following associations: