Denture Clinic / Implant Dentures
Implant dentures offer the most durable and natural looking replacement teeth.

Dental implants are an excellent permanent solution for those who want to replicate the function and ability of their natural teeth as closely as possible. If you have tried dentures before and had concerns with the fit, or encountered discomfort due to a lack of chewing strength from traditional dentures – Implant dentures may be the perfect solution for you. Implant Dentures do wonders for restoring your natural chewing ability due to their increased stability. With these dentures, both bone and your natural mouth functions are retained, so you can fully appreciate your meals.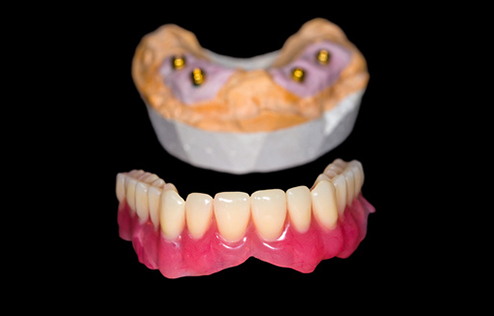 Treatment Overview
To begin, our consultation process will investigate the condition of your current teeth to determine how many and what type of implants are best suited for your unique situation. Following, we can determine the best method of creating said implants for your mouth. This may be a single-session or multi-session process depending on your particular needs. After the implants have been installed, there is a recovery period where we will continue to monitor your satisfaction and make any necessary adjustments.
Implant Dentures have become more and more popular over the years due to their unique advantages as a denture solution. For patients who may be experiencing pain from their current dentures which do not fit perfectly, implant dentures offer a permanent solution that generally fits more naturally in your mouth. For many patients, there is nothing better than the feeling of complete freedom knowing you can eat whatever you want – just like you used to. Implant dentures represent a quality-of-life improvement in many cases from other temporary options. Contact us at Padua Dental Arts today if you want to find out more information on our implant dentures – or simply to ask any questions or state any concerns you may have about our processes. We would be happy to answer any inquiries.
Implant Dentures best simulate your natural teeth
Padua Dental Arts is affiliated or a member of the following associations: