Denture Clinic / Partial Dentures
Consult with the denturist to see if metal or acrylic partial dentures are right for you.

Partial dentures attach to your natural teeth to create a functional replacement for your missing teeth. There are a variety of partial denture configurations available in order to accommodate varying needs and mouth conditions. When a few teeth are missing, partial dentures are often the most convenient solution available. Partial dentures are removable and have been made more comfortable in recent years thanks to modern techniques and technology. Keep in mind that partial dentures do not carry any risk of damaging your remaining original teeth.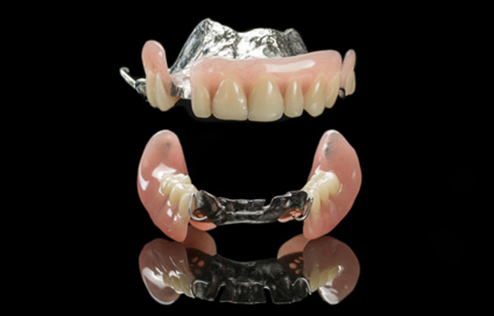 Treatment Overview
Any dental procedure at Padua Dental arts begins with an investigatory consultation. During this step we can determine your unique denture needs and discover what you prioritize regarding the comfort, visual appeal, and functional ability of your future dentures. Using that information, we can recommend the best solution for you. We make impressions of your teeth during this process in order to develop an accurate model of the mouth. This model forms the basis of the denture we later fabricate for you. With our in-house dental laboratory, we can manufacture the denture on-site; saving you time and ensuring the denture is perfectly fit for you. Once you try the denture for yourself and have made the appropriate recommendations for adjustment, we can move on to producing the final partial denture and monitoring to ensure the denture meets your needs during the days and weeks after completed treatment and during recovery.
Padua Dental Arts offers acrylic, metal, or combination cast partials as appropriate to match your unique needs. There is no one denture solution that immediately matches every tooth configuration, but we put the utmost effort into finding the perfect partial denture for you. Contact us if you would like to schedule an appointment regarding partial dentures – or if you simply have more questions about our processes or procedures. We would be happy to answer any inquiries you may have.
Many Varieties of Partial Dentures
We Recommend the Best Solution
No Risk to Remaining Teeth
Padua Dental Arts is affiliated or a member of the following associations: